Advancing Gender Equity in Medicine
Sep 17, 2021
As part of Women in Medicine Month, the American Medical Association (AMA) hosted the Advancing Gender Equity through Medical Education, Leadership Development, and Medical Practice webinar featuring Dr. Margot L. Savoy, MD, MPH, FAAFP who spoke on gender equity and visibility in medicine.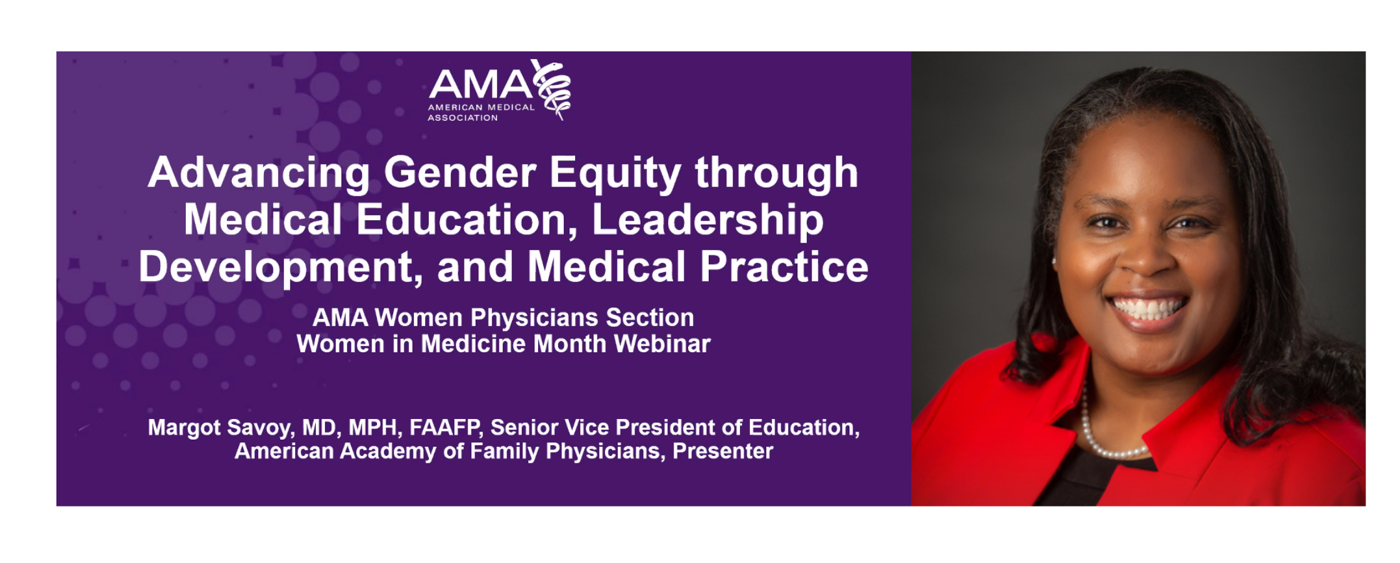 "The biggest thing we can do as women to advance gender equity is to be present in the room," Dr. Savoy said while speaking on bringing your own seat to the table. "If we aren't in the space, people don't realize the difference we could have made. If we're in the room, we know we have an opportunity to make sure the issues we have are raised and addressed."
Dr. Savoy discussed four key points that women can practice to advance gender equality in the workplace.
1. Don't wait for invitations.
Tell people that you want to be in the room. If they still don't let you in the room, convene your own meetings including the people with whom you'd like to collaborate and discuss ideas. "If you see something wrong, it is your job to correct the thing that is wrong. It's not self-serving…it's because you have expertise and knowledge to share."
2. Bring your girls with you.
You'll never hurt yourself by bringing others with you. "If women aren't going to do that for other women, we can't get angry when men don't do that for us," Dr. Savoy stated. "Men do this all the time for one another, and women rarely do unless they're coached to do it." Women need their work seen and their voices heard. Be both a mentor and a sponsor for women, and bring your girls with you to boost everyone up
3. Speak to be heard.
No one can hear the ideas in your head. Be bold and brave when mentioning an idea that might not be fully fleshed out yet. It's better to discuss an idea then to stay silent.

Dr. Savoy gave helpful steps for recognizing and addressing mansplaining, allysplaining, and microaggressions.

- Check yourself to make sure you're recognizing what is happening
- Use humor to get your point back on track
- Redirect the conversation to your original point
- Call it out if it continues to happen
"People taking over the intellectual property you have by speaking it over you in a meeting [becomes] someone stealing your ability to advance and move forward."
4. Protect yourself.

Dr. Savoy recommends delegating, saying yes to you, and setting boundaries in order to protect yourself from burnout. Women in medicine are especially burned out during covid with an extreme workload, taking on the role of teacher, keeping up relationships, ensuring the home is running smoothly, and so much more.
"Everytime you say yes to someone else, you're saying no to something for yourself. Be intentional about putting in boundaries that make your life the life you want to have."

Margot L. Savoy, MD, MPH, FAAFP serves as senior vice president for education. Savoy oversees all organizational activities related to medical education and continuing professional development. Her areas of focus include education and training of medical students and residents; student interest and choice of a career in the specialty of family medicine; expansion of graduate medical education in family medicine including federal policies that affect it; and development of continuing professional development opportunities, including CME. More on Dr. Savoy here
More about AMA Women in Medicine Month here
Julia Rzucidlo
Marketing Associate
Julia (she/her/hers) is part of our Marketing & Communications team.